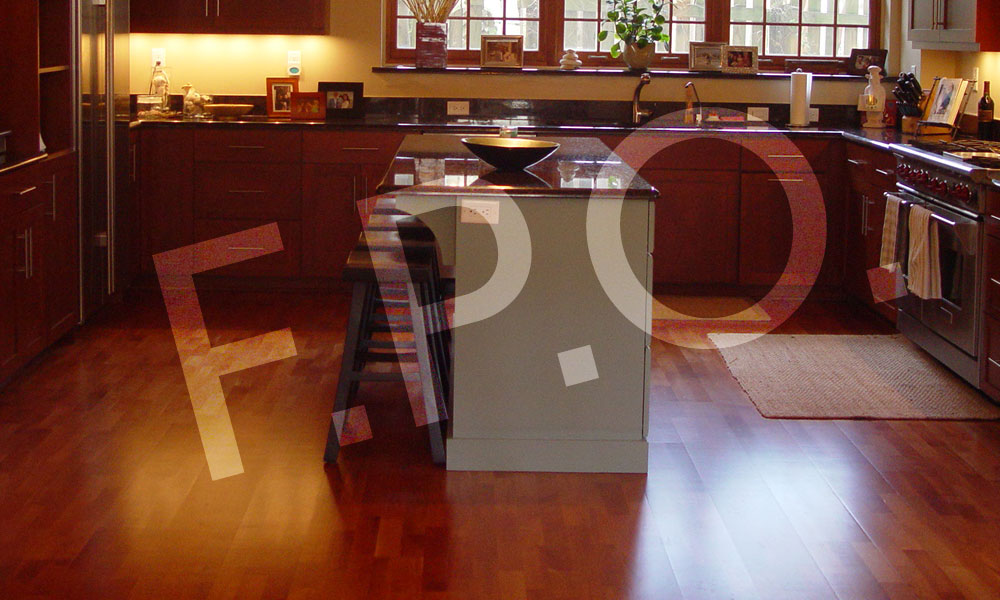 Hardwood Flooring
Hardwood flooring offers warmth, beauty, and value.  Its ease of maintenance and timeless beauty has made hardwood flooring one of the most desired flooring surfaces.
Engineered Hardwood Flooring
Engineered Hardwood Floors are our specialty. They provide several important advantages over solid hardwood. Today's engineered hardwood floors offer an aluminum oxide finish that is applied in a controlled factory environment. This results in a finish that is much harder and more durable than a finish that is applied on site.   A floor with a factory applied finish installs more quickly and it doesn't involve the dust and odors that an on-site finish produces.
When temperature or humidity changes, woods expand and contract.  As seen in the picture, engineered floors have a cross laminated core. It is this cross lamination that provides the structural stability that prevents the board from warping, twisting, cupping and cracking. Engineered floors can be glued down directly to the concrete slab instead of adding a plywood subfloor.  A plywood subfloor will add to the overall height of the floor.
Distressed Hardwood Flooring
Distressed Hardwood Flooring is either hand scraped or machine scraped in order to give it a time worn appearance. Different manufacturers offer varying levels and styles of distressing, colors, and gloss levels. Come visit our showroom and one of our experts will help you narrow it down from the thousands of products we have available.
Smooth Hardwood Flooring
Smooth hardwood flooring offers either a more traditional look with species such as oak and a more contemporary or modern look with species such as maple.  Smooth floors offer the ability to sand and refinish to remove scratches and change stain color, provided it has a thick enough wear surface.
Species
The species of the hardwood floor that you select is an important decision. Different species will vary in hardness, grain, and color. Two of our favorite species for hardwood flooring are Maple and Hickory. They both wear well because of their hardness and they can be stained and finished in a large variety of styles.  Kids, pets, and amount of sunlight can all be important factors.  It can be a complicated process but our experts are here to help you chose a hardwood floor that you will be happy with for years to come.
Hardwood Flooring Product Lines We Carry
Anderson, Armstrong, Alston, California Classics, Carlton, DuChateau, Elegance, Hallmark Hardwoods, Lauzon, LM Flooring, Mannington, Mirage, Natures Beauty, Private Reserve, Reward, Teragren Bamboo, The Woodland Collection, Urban Floor, Virginia Vintage