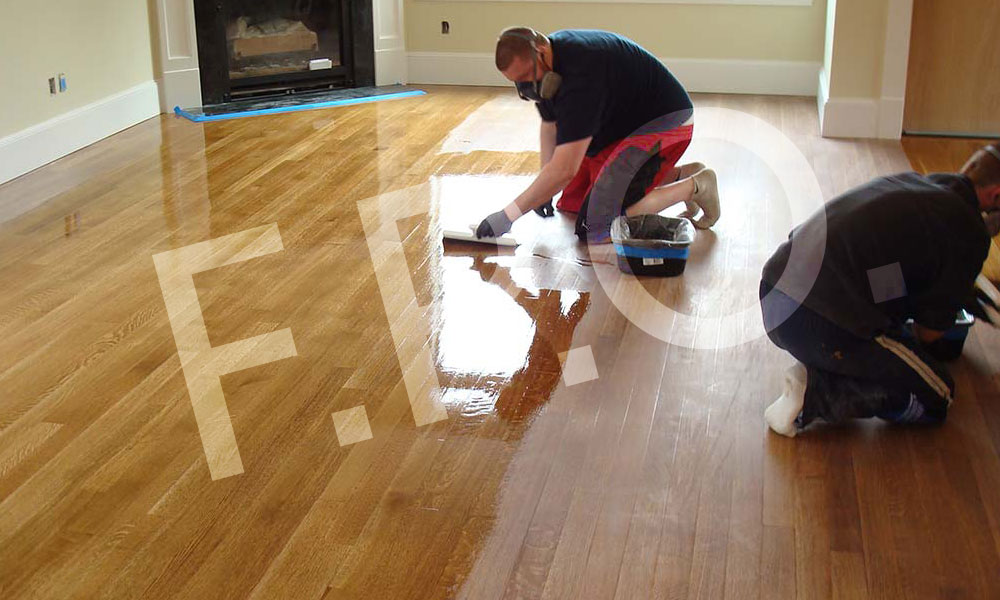 Flooring Installation
Glue Down Installations
Engineered hardwoods are the most common of the wood flooring types that are glued down during installation.
Engineered hardwoods have more flexibility and can endure the wear and tear over time.
This type of installation is not recommended for the novice.  It takes a lot of floor preparation and can be quite messy.
There are three different types of adhesives, including water based, urethane based, or acrylic, which adhere best to certain types of floors.
Nail/Staple Installations
Air assisted floor fasteners are the most popular of the nail/staple installation tools available today. No longer do you have to break too much of a sweat installing a new wood floor.
There are also different fasteners and nails to choose from depending upon the type of wood you are working with.
It is always best to contact a professional when installing wood floors.  Without proper preparation, wood can split, creak or bend if not installed correctly.
Site Finished Floors
Site finished floors are wood floors that are installed unfinished and then finished on site. This allows the floor to have a near flawless appearance upon completion.
How do you create a flawless finish?
It's easy!
The floor is sanded first, removing all abnormalities giving a smooth surface. The floor is then coated with its preferred finish, smoothing out the separations, gaps and bevels between the boards.
Site Finished Floors give the homeowner the ability to customize the staining of the wood to better fit the decor of the home. It is a great option for those home owners who are looking for a custom feel to their home.
This again is a process better left by a professional.
The finished floor has many conditions that need to be kept constant in order to maintain its beautiful appearance. Humidity from the changing seasons is a factor as well as extreme changes in temperature from in-home heating and cooling systems.
You also must consider the time in which it takes to install a wood floor Site Finished.  Depending upon how many coats your floor needs, the ability to keep the area free from dust and debris and sensitivities to strong odors during the setting process, site finished floors are a good choice for those who have the time to invest in this process.
Floating Floors
Floating floors have become a more popular option among home owners due to the DIY aspect of it. Floating floors get their name because they are not secured to a subfloor. They suspend above the floor on top of a cushioned underlay mat.
There are three kinds of Floating floors available:
Glue Together
Click Together
Lock & Fold
The Glue Together was the first type of floating floor available to consumers. These floors were fastened by a bead of glue that is squeezed into the grooves of the floor plank. The floor is then tapped into place and leveled using a hammer and tapping block.
The Click Together floor is still installed using the floating method but they do not use glue. The Click Together uses a mechanized tongue and groove system that stays in place once they are connected.
The Lock & Fold is the most recent addition to the floating floors. These use no glue nor require tapping to secure into place. Boards are placed on the cushioned underlay and then connected one by one with adjoining pieces that fold over each other to create a secured connection.
About Moldings and Installation
Moudings help to hide flooring imperfections where the corners of a room meet, giving the room a finished look.
Installing molding is easier than most people think. It just takes sharp measuring and patience.
Decorative molding is traditionally installed two ways. The traditional installation method requires miter saw, coping saw and scarf joint cuts.  These can be easily cut by our associates and installed same day.
An easier installation method is the Corner Block.  This type of installation allows us to install the moulding using only straight cuts.
We can help you determine the type of molding installation that will fit your look and budget.